Hi! I'm Ria (Riannan) Well....Not ACTUALLY... My WoW Char (Durrr) is Riannan, a Shammy Draenei, so i use Ria or Riannan as Usernames a heck of a lot xD So just call meh Ria/Riannan! <3 I'm guessing this is the bit where u write about yourself 0.o sooooooooooooooooooooooooooooooooooooooooooooooooooooooooooo......
Um...lets start with Peanut Draenei. Peanut Draenei, named after Ria, Is my "Company" sort 'a, i'm trying to make machinies ya see? but i have no recording Info, I've gotta work on my Sweet Talking skill to get WoW Model Viewer xD so i will do them soon. at the moment i'm writing a book Inc Ria meeting Deathwing, and, that too, i'm OBSESSED with Deathwing and Neltharion. Don't ask, i have no idea o.0 i'm a Deathwing Nerd -.- well, a Deathwing/Onyxia/Sintharia/Nefarian/Dragon Aspect Nerd. And sort of a nerd. if you get what i mean... So, Yea, i only know the stuff that's on Wowwiki or i can be bothered to read. So, lets just say i'm a SLIGHT WoW nerd. -.- xD So Peanut Draenei, yea, my two main actors (I Guess) are Riannan and Cheshinia. Cheshinia is a Night Elf Druid. (Forgotten which sort xD ) My fave Races on WoW: Draenei, Night Elf, Blood Elf and Humans, though fave by FAR is Draenei. FEMALE draenei. <3 <3 <3 <3 no offence to males xD so yea, i'm quite weird and friendly, if you want to message me anywere, i have a Hotmail Account for this sorta thing: Peanutdraenei@live.co.uk, and also a FB account for this sorta thing: Riannan Jackson, it not let meh have Riannan Shadowstalker... :( http://www.facebook.com/riannan.jackson?ref=tn_tnmn <-- Link to FB account. :)
I love messages and talking! feel free to message me! :D I also have a website: www.PeanutDraenei.webs.com :) look there for info pics etc etc. :D
While i'm on here i'll nearly ALWAYS be being nerdy: Reading Info about DA and DW, and other random WoW things. xD

And also, i have just made: www.RiannanAtWowiki.webs.com This will have random stuff on it xD
Please join me Websites! and add me on FB! thanks!
-Ria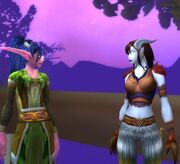 Meanings: DW: Deathwing, DA: Dragon Aspects, WoW: World of Warcraft.