Hi, my name is Raylan13, and I'm a member of the Wikia Content Team. I'm here to help your wiki community grow by fostering engagement and making the wiki more accessible for all users. Feel free to stop by my talk page and say hello!

I was formerly an editor with 38Studios, working on the Azeroth Advisor before it was discontinued. I am an avid Warcraft player and have been playing for a number of years.

Be sure to check out the Content Team's portfolio.
Current Projects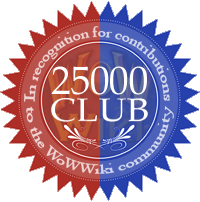 This user is a legendary member of
the
25000 club
!
1. Updating Dungeon level requirements
2. Updating Zone levels
3. Checking/correcting Flight Paths
4. Checking/correcting Boat and Zeppelin routes
5. Updating Class Abilities
6. Updating Class Talents
7. Updating Profession Recipes
8. Updating town NPCs and zone NPCs
9. Updating town information
10. Updating Zone information with regard to gathering nodes
11. Non-combat Pets update
12. Mounts/Trainers/Locations
13. Updating city NPCs
14. Updating all quests for each zone
15. Updating Reputation pages
16. Hunter Pets
17. Updating mob locations/status/stats
18. Updating all Dungeon quests
19. Updating Dungeon layouts
20. Updating Achievements
Much of the above will be an ongoing process with the release of patches and expansions. In addition, I will also be:
1. Updating patch information
2. Editing pages
3. Policing for vandalism
If you have any questions, feel free to leave them on my talk page. I look forward to working with this community.

This user is
an expert
concerning a little bit of everything at WoWWiki!