This article is a player character biography page The contents herein are entirely player made and in no way represent official World of Warcraft history or occurrences which are accurate for all realms. The characters and events listed are of an independent nature and applied for roleplaying, fictional, speculative, or opinions from a limited playerbase only.
Please make sure player character articles are named properly - see the player character articles policy.
---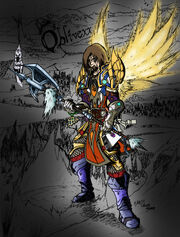 Summary/Prologue:
First starting out as and alt on his brother's server, Oblivexx was later transferred over to Server:Dethecus US as a way to avoid sharing the PC with his brother.

Biography:
Oblivexx was the first Guild leader of LEGENDSofAZEROTH Server:Dethecus US during some of the key events of World of Warcraft's most prominent early years. Oblivexx he has served later as a prominent Raiding Commander all the way up till the great Cataclysm of Azeroth.
From the beginning, Oblivexx was solely focused on soloing much of the game, but a life without friendship in such a vast colorful world became dull really fast. So about the time in wandering around the territory known as Duskwood, Oblivexx was invited and later integrated into the Guild, Darkstarz (Dethecus US). He had taken a part in both explorations of Patch 1.2 Mysteries of Maraudon to the rising campaign between the Horde and Alliance of Patch 1.4 The Call to War. After months of continued obedience to the guild and joining in every (though few) gatherings, Oblivexx sought more out of the guild and wished to take the guild more seerious. With many disbutes on the purpose of a guilds goal Oblivexx became very distant from the others. As time went on from one territory to the other the Paladin came to despise much of what he had hoped for within his guild. Till one day while venturing to the Western Plaguelands he became acquainted with a Rogue named Sldsnake.
In time, during Patch 1.6 Assault on Blackwing Lair Oblivexx left Darkstarz on a subtle moment and created LEGENDSofAZEROTH (LoA) with his new friends. LoA consisted of Oblivexx (Leader), Sldsnake (second-in-command), Moosedagnome, Ldysmooshy, Tommychong, and Lickalots. As a base to go off of LoA established itself as both a social and questing guild, to later incorporating PvP scourges against the overwhelming Horde forces of Dethecus (at the time Dethecus was nominated as a Horde server). The guild was built from 10 - 20 players.
With progression moving slowly during Patch 1.7 Rise of the Blood God and Patch 1.8 Dragons of Nightmare, Oblivexx chose to step down from Guild Leader and have the position passed onto his second-in-command, Sldsnake, who for a short time recruited a substantial amount of players into the guild. Oblivexxed
External links
Edit
 Battle.net: Oblivexx @ Dethecus (US)