103,890pages on
this wiki
Talk

0
Half-elves are neutral, they can choose alliance or horde, if they choose horde, they start in eversong woods, if alliance, elwynn forest.
Interacial breeding is generally frowned upon by human and elven society. Half-elves usually suffer bigotry from both their elven and human parents. The elven parents would often abandon their children. [1] (WRPG 48)[2] (A&HC #?)[3] (APG #?)Humans are jealous of half-elves' extended life spans.[3] (APG 11) Half-elves of Stormwind could take no more despise and left from the stormwind, home of their human parents. If the race of half-elves continues to suffer nothing but misfortune, they might decide that the Horde is the only place for them.[...] They sometimes find a home within the towns of the Horde. [1] (WRPG 180) [3] (APG 133) Faction of half-elves that serve the horde are bitter for their treatment, and now live with other elf race with similar mindset, blood elves. They were abused by humans too: some were imprisoned and executed by racist humans. Half-elves are lead by Gaimus Goldleaf who lead half elves to silvermoon. Though half-elves have merged well with blood elf society, they still appreciate their leader. Gaimus´ charisma speeded up consent, and possibly hes holy skills as Epic paladin warrior. Blood elves respect him as hero and avowed enemy of the scourge.
The half-elf race is already a member of the Alliance[3] (APG #?). Heritage places them in the Alliance at both sides, and many served in the First, Second and Third Wars. Most half-elves live in Stormwind and Elwynn Forest. Most humans have accepted them into society. They have always been accepted by dwarves and gnomes.[3] (APG 11, 12) [3] (APG 12) [4] (LoC #?) Half elves that serve alliance have abided their treatment and have finally been wholly accepted by Alliance. Though half-elves have merged well with human society, they still appreciate their leader, Adelle Sunbow.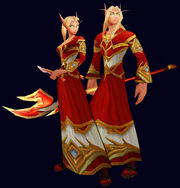 Kalecgos has unique half-elf model, but its wide use is questionable. Old, masculine blood elf model (not pre-2.0.1) that had nearly human like features, could be used (at least as its base) as half elf model.