Morec of Rivendare/Neutral Roleplaying Characters
103,470pages on
this wiki
Talk

0
A list of the self-alligned characters or those who are affiliated with a faction that is not playable in-game (i.e. the Burning Legion, the Old Gods) that I use for Roleplaying. Enjoy, and be sure to look at my Horde and Alliance characters as well.
Curho Demoneye
Edit
"Chaos, it is the only absolute in this world and all others. The Legion recognizes this, and attempts to teach the mortal races that lesson. Those that listen are rewarded with great power, as you will soon see."
— Curho
Curho is a warlock of the Shadow Council with strong ties to the Burning Blade, and a servant of the Burning Legion. Long ago, when he was first attempting to worm his way into the service of the Legion, he traded his eye to a demon know as Ambassador Hellmaw for the devil's luck. Even if the fiend's promise was a hollow one, Curho has felt more powerful ever since that day.
Biography
Edit
Curho had been small for an orc, and being born and raised in the internment camps wasn't a plus either. Every day of his life the guards and larger children would push him around for reason he couldn't understand. When Thrall can to rescue the orcs from the camp, his mother, as well as several others, were killed in an attempt to stop the orcs from escaping. He promised her he'd do whatever he could to serve the Horde that had come so close to freeing them both.
Curho attempted to join the ranks of the grunts, but was quickly turned away from them because of his lack of strength. He also showed no ability to serve as a shaman, and was too clumsy to be a scout. This left him with only a peon as a option to serve. He tried hard, and was able to assist the Horde in several of its battles, but the constant beatings and dehumanizing comments from his overseers began to have a slow toll on his sanity.
After some time, he finally snapped. He killed the Overseer and fled deep into the Barrens, eventually meeting up with a caravan of warlocks. They attempted to kill him, but Curho, in a blind fury, murdered many of them. Those left standing decided that they might be able to use an orc with his apparent disdain for life, and so welcomed him to join them. With no other place to go, he went.
He was taught how to use the powers of the Burning Legion, how to summon demons, and the warlocks took the hate within him and twisted it to be pointed at their enemies. Unfortunately they went too far in one training exercise, pushing him and ordering him around too, and he murdered them all. He spent the next few days mulling over their tomes and what to do with himself. After some time he successfully communed with a demon named Hellmaw, and gave the feind an eye in return for even greater power.
After that, Curho proceeded north to Felwood, where he joined the rest of the Burning Blade clan and other servants of the Burning Legion. He trained and eventualy found his way into a position of power within the Fifth Circle of the Shadow Council. Now at his full power and in the prime of his life, he seeks to throw the world into the firey, demonic chaos that he belives only the Legion can bring. Even if that means serving the Horde once again to bring his enemy down from the inside out.
Appearance
Edit
Curho's skin is a dark shade of green and his remaining eye, although not the same shade of red as many other orcs infused with demonic might, glows red with hatred for all who do not serve the Legion. His robes are blood red and black, helping to identify him as a warlock, and he carries a sword that's fel-infused blade matches the color almost perfectly, and the black eyepatch he wears does the same. The tome he carries at his side contains a number of demonic incantations - most of which he's already memorized - for summoning demons, casting destructive spells, and enhancing his own power
In his demon form, Curho has a pair of black, bat-like wings sprouting from his back (although these do not allow him to fly), and his feet and hands changing into giant talons and claws. His face transforms from orcish features into something that resembls a pit lord, his tusks growing larger and sharper, and a tail that also resembles the annihilan sprouts from his back. His size also increasing, reaching a point where he could be mistaken for a large black drake.
Ziljub's left ear, left eye, and two fingers from both his left hand and his right have been removed. His body is also bruised from Curho kicking him around - litteraly - as the warlock sees fit, and his horns have been forcibly sawed down to nothing more then a pair of nubs. Other then that, his apparence is the same as most other imps, black flesh and glowing yellow eyes. His hands burn with fel fire even when he is not preparing or casting a spell. As this causes him great pain it is likely the work of Curho's magic, and the agony has caused him to develop a slight twitch.
Zangthak
Edit
Zangthak's appearence has been altered by Curho in less drastic ways then his other, more physical, demon minions. The voidwalker's body is still a deep blue color, but runes enscribed on the bracers that bind him to this plane of existance cause a storm of demonic lightning to rage inside of him. Zangthek is unable to use this lightning in any form of offensive or deffensive spell or ability, and the only purpose it serves is to torture the poor demonic being for his master's ammusement.
Bronaith
Edit
Bronaith's skin tone has a few shades of red, and she wears the same armor as any other succubus in the thrall of a warlock. Unfortunately, she does not share much of their alluring appearence, thanks to Curho's work. Her skin has been scarred all over, making the once silk-smooth flesh of this demon coarse and rough. Her right horn has also been removed, and her leathery wings have been torn to shreds. Curho knows that an attractive succubus is a more useful then an ugly one, and so painfully carved a set of runes into her back that she can use to make herself appear beautiful once again, however, she is only able to do this when Curho allows her too - the warlock being able to activate and deactivate the runes at will.
The tendrils on Luukun's back have been heavily scarred and some have even been removed by Curho. These scars still cause the felhunter great pain, and the beasts red flesh has been torn open in some places and then fused back together with demonic flames. Runes painfully enscribed all over the body of this creature make him eternally hungry, always craving more magic. This hunger makes him esspecially helpful against magic users and even those who don't use magic, because Luukun will often attempt to feed the hunger for magic with blood. However he does not attempt to drain Curho's magic, knowing very well what would happen to him if he tried.
Tainthoof
Edit
Tainthoof is the only one of Curho's demons that seems to have avoided the grotesque disfigurment the others were put through. This may be due to that fact that, if harmed too much, the demonic steed may not be as strong as is needed to carry his master the great distances he sometimes travels. Tainthooof's demonic armor is inscribed with runes, but it is unknown what effect - beneficial or harmful - these demonic symbols have on the beast.
Personality
Edit
Curho hates anything that isn't sided with the Legion in some form or another, however he is smart enough to realize that killing them isn't always the answer. He is capable of entering Horde society when he has need to, but prefers to spend his time in the company of other warlocks directly aligned with the Burning Legion and it's many servants. He treats his demon minions with even less respect and more hatred then he does the enemies of the Legion on a daily basis, toturing and disfiguring them as he sees fit. Because of this, his demons fear him, and do what he wishes without question - which very well may have been the results Curho was looking for while he was inflicting the pain and disfigurement onto them.
Despite this, he carries the - as many other warlocks would see it - weakness of still holding onto a code of honor - twisted though it may be.
Abilities
Edit
Curho is a powerful warlock with particular skill in the mastery of demons - his powers in that field of demonic so advanced that he can keep two of his summoned minions out to battle from him at once. Whenever he fights, he enters combat with one goal in mind: cause as much destruction as is physically possible. Of course, he realizes that a blood-thirsty rampage isn't always the answer, and so does his best to stay out of battle when it doesn't suit his intentions. No matter which demon he sends in to the battle to attack his foes, he expects the same result; the death of his enemies, and he can empower his minions to the point where he thinks they can achieve that goal. He also has a decent ammount of knowledge in regards to demonic runes, and uses what he knows to benefit himself, the Burning Blade, and the Legion.
Ziljub's skills include deffensive and offensive magics, and, in the interest of avoiding more suffering, he balances these out to best aid his master. Hurling firebolts and creating shields of demonic flames, as well as the occasional phasing in and out of reality and an insignificant blood pact, are the only abilities that the tiny demon possess, but he uses them with surprising effciency. So long as his usefulness in combat dosn't end, Curho refrains from taking out his frustration on the imp any more then he already does.
Zangthak
Edit
Zangthak's stamina is great, and his strength matches it. Curho uses him the same way any warlock uses such a creaure; as a meat sheild and occasional means of attack. The natural ability of voidwalkers to drink in the shadows around them to regenerate their strength is enhanced by Curho's mastery of demons, and, even though the orcish warlock will occasionally torture Zangthak by forcing him to fight with little life left in him, the demon uses his "blessing," of sorts, of serve his master - if only to avoid whatever more suffering Curho would inflict upon him.
Bronaith
Edit
Bronaith's true appearence leaves much to be desired, but when he uses the runes carved into her back she becomes a distraction to all men and even some women. All of her other traits are the same as the other succubi; low stamina, skilled with a whip, and a limited affinity for magic. Curho has some use of her in combat, but most other times uses her as a stewardess and entertainment for the powerful members of the Burning Blade and Legion that visit him.
Because of Curho's magic, Luukun is eternily hungry, and satisfies this hunger by draining magic from otheres - be it beneficial spells from enemies, or harmful spells off of his master. This felhunter is also an excellent tracker, and Curho uses him to hunt down any that escape imprisonment by the Shadow Council or the Burning Blade. Luukun's stamina is not great, but his ferocity makes him an invaluable asset to Curho's work.
Tainthoof
Edit
Tainthoof's speed and stamina is unrivaled by all but the other steeds used by the Legion. Because of these characteristics, Curho uses the mount to distract his enemies when sublty is needed, or for offensive purposes if his situation is that dire. Still, the beast has only one true use: carrying the orcish warlock to any destination of his choice.
"If you seek death, then stay where you stand. Death will come to you."
"Ziljub, you pathetic, cowering worm, come here and attempt to make yourself useful this time!" (Summoning his imp minion, Ziljub)
"Zangthak, I call you from the nether! Come and protect your master - OR IT WILL BE THE END OF YOU!" (Summoning his voidwalker minion, Zangthak)
"Bronaith, come and serve me as I command or suffer a fate worse then death! The chose is yours, demoness." (Summoning his succubus minion, Bronaith)
"Luukun, you pathetic hound! Come from the Nether and feast upon those who could dare stand against the Burning Legion!" (Summoning his felhunter minion, Luukun)
"Come Tainthoof! Your master has need of your service." (Summoning his demonic mount, Tainthoof)
In one RP, Curho was transformed into a fel orc after a extended period of direct exposure to the energies of the Twisting Nether.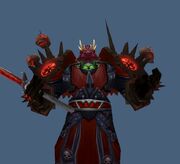 Soundtrack
Edit
A list of songs that I play while RPing as this character, seeing as it fits him to some regard:
Fight Fire with Fire - Metallica
Marisa "Talah" Blackswallow
Edit
"Pay me, give me a target, or get out."
— Marisa, said to many who seek her valuable services.
When you care enough to send the best, call for Marisa Blackswallow - or "Talah" as she is known to most others. Marisa studied under some of the greatest rogues of Ravenholdt but, with nothing more to learn from them, she no longer associates herself with them. If one seeks to find her, almost all rogues in the Horde cities and a few that reside within the capitals of the Alliance can direct anyone that has need of her abilities to her "vacation home" in Silverpine Forest.
Biography
Edit
Marisa Blackswallow was a young girl when the orcs attacked Silvermoon. Her mother, a ranger of Quel'thalas, was killed the trolls who had allied themselves with the Horde. From that day, Marisa never able to think straight again, and her father's telling her to "forget about mommy" didn't help her clear psychological problem either. She fled from her family at the first opportunity that presented itself and spent the rest of her life as a street urchin in the less then magnificent parts of Silvermoon.
She taught herself how to avoid the guards and steal from the various shops that filled Silvermoon's steets. Her father offered many rewards for anyone that could bring Marisa back to him, unfortunately she managed to elude every attempt made to - as she began to see it - capture her. She barely managed to escape the undead Scourge when they came to Silvermoon, but not before seeing her father and grandmother ripped to bloody shreds by them. Although she didn't care for him anymore, the horrific sight still had as much of an effect on her brain as the death of her mother had.
She traveled around the Northern Eastern Kingdom's for some time after that, avoiding the Scourge at all costs, but also seeking to find a new home for herself. She was eventually found and taken in by Myrokos Silentform of the Ravenholdt Guild, who trained her as best they could to become a talented rogue. Over many years of training her skills, abilities, and knowledge of poisons and underhanded tactics steadily improved, but so did her ambition and love for wealth. One day she attacked and severely injured Myrokos as well as several other rogues before fleeing Ravenholdt Manor for good.
A few weeks later, she came across and claimed an old farmhouse for herself in Silverpine as her own. From there she welcomed anyone that came to her with a job. She spends her time alone and rarely leaves her home, but if one asks around enough, they can gather the information they need to find her - although she is known only as "Talah" to all others. After the Cataclysm brought the worgen-Forsaken conflict into the forest Talah was forced to move in the interest of her own safety. She took up residence in Quel'thalas, in a small but elaborately furnished home - including a large fel crystal. Despite the move, she remains aloof from the rest of her kind.
Appearance
Edit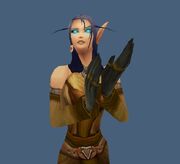 Marisa is a shapely elf for one of her age, and the visual appeal has helped her many times over with reaching and dealing with her targets. She wears black leather armor most of the time, although she also has more comfortable and far more expensive clothes in her possession. Her fel-green eyes clearly show that she is a blood elf, but the deep blue contacts she has managed to get her hands on allow her to mask this when she is dealing with races who would be less then hospitible towards her pressence. When more then a simple pair of contacts is needed to hide her true identity, though, she lets her hair down from the pony-tail she usually keeps it in and puts on a brown linen robe. This allows her to assume the appearnce and false identity of a high elf mage, although she has no ability to cast any sort of spell whatsoever.
Personality
Edit
While it couldn't be said that she is evil, Marisa is a bitter character and most certainly doesn't care much for anyone besides herself. She doesn't care for the life of those she assigned to kill, or the life of anyone who gets her in way. Despite her seemingly and overly-homicidal view of those around her, Marisa isn't one to simply walk through the streets killing innocents - unless, of course, she is being paid by someone to do so. She doesn't like to be touched by anyone, but when her sexuality it being used to lull her targets into sense of safety and distract them from the very thing from which she takes her nickname that is quickly coming for them she tolerates it enough to get the job done. Like all blood elves she is addicted to fel energy, and still perfers it over the magic of the restored Sunwell. This may or may not have anything to do with why she refuses to fully rejoin blood elven society.
Abilities
Edit
Quick thinking, murderous, and even more beautiful. There are few combinations that are as deadly as these, and Marisa uses them to her advantage. While she uses her... assets to distract her targets and general enemies, she slowly moves in for the kill. She is highly skilled at stealth, the use of smoke bombs, and other subtle and distracting methods as well, though, and whenever she cannot seduce her targets into coming to her, she makes the decision to go to them, dagger in each hand, and ready to kill. She also has the talents to pull off a clever, non-magical disguise that gives her the appearance of any normal high elf through the use of blue contact lenses.
"The way to a man's heart is through his stomach. If no poisons are available, however, a dagger planted firmly between the ribs should work just fine. If that doesn't work either... well, then I suggest ripping their head from their shoulders." (Marisa on the male species)
"Talah" (Marisa's calling card, said to anyone she kills as the life seeps from them)
Due to the well-cultivated reputation Marisa has created, only those that were members of Ravenholdt during her time there know her true name. To the civilians of Azeroth's various factions and even newer Ravenholdt members - the older one's respecting her impressively infamous reputation - she is simply known as "Talah." As Death.
Soundtrack
Edit
A list of songs that I play while RPing as this character, seeing as it fits her to some regard:
Rogues do it from Behind - The Artists Formerly known as Level 80 Elite Tauren Chieftain
Timothy Vrote
Edit
Timothy Vrote

Title

<Twilight Master>

Gender
Male
Race
Human (Humanoid)
Character class
Warrior
Affiliation
Twilight's Hammer Clan, Old Gods
Position
Mortal Servant of the Old Gods, Mid-ranking member of the Twilight's Hammer Clan
Location
Silithus
Status
Alive
Alignment
Neutral Evil
"This world will return to the state that he Ancient Gods wish it! Surrender to the only true masters this world has ever known and be blessed as I have been!"
— Timothy, rallying the Twilight's Hammer Cult.

Timothy Vrote is a human member of the Twilight's Hammer clan. He has served the cult in their efforts to bring about the end of the world for some time, and for his zealous loyalty the Old Gods granted him their blessing. They disfigured his left hand, giving it the appearance of one of their faceless one minions and much greater strength.
Biography
Edit
Appearance
Edit
Timothy has blond hair that extends to the chops on his face. The robes he wears are the same as any memebr of the Twilight's Hammer; Violet, adn both cerimonial and protective. His left has was mutated by the power of the Old Gods, and transformed into a disgusting mass of purple flesh, his fingers becoming little more then three tenticals that writhe around with a mind of their own when he does not put them to any type of work. His right hand has remained untouched, however, and he carries a tonfa-style blade in his hand, weilding it with amazing - deadly, even - skill.
Personality
Edit
Abilities
Edit
Soundtrack
Edit
A list of songs that I play while RPing as this character, seeing as it fits him to some regard: