WoWWiki Admin
| | |
| --- | --- |
| | This user prefers Druid magic. |
| | |
| --- | --- |
| | This user prefers to PvP. |

This user is
an expert
concerning the Riding profession and mounts at WoWWiki!
"It's better to be a smart-ass than a dumb-ass." - My Father
Intro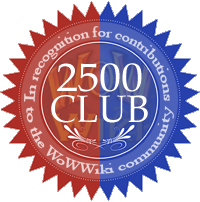 This user is a venerable member of
the
2500 club
!
I'm a university student with a love of computers and an obsession with World of Warcraft. If you have a question or need some help feel free to leave a message on my talk page. I'm usually on in the evenings.
For The Horde!
WoWWiki roles
Sandbox
Current projects
Updating the Tier 14 armor page.
Policing for vandalism.
To-Do list
Main characters
86 Tauren Resto Druid.
90 Blood Elf Frost Death Knight.
My links
These are links for Macrophager's use only!