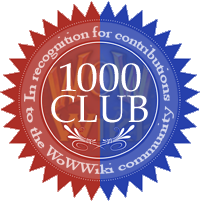 This user is a respected member of
the
1000 club
!

This user is
an expert
concerning the Riding profession and mounts at WoWWiki!
"It's better to be a smart-ass than a dumb-ass." - My Father
Intro
Warning: I am Canadian.
I'm a University student with a love of computers and an obsession with World of Warcraft. If you have a question or need some help feel free to leave a message on my talk page. I'm usually on in the mornings and evenings.
I am currently studying for an exam, so I will be on less often for a little while.
For The Horde!
WoWWiki Roles
Current Projects
Updating the Mining pages.
Updating the Herbalism pages.
Adding missing Cataclysm mounts to the Mount pages.
Policing for Vandalism.
To-Do list
Update remaining profession pages.
My Characters
Last time that I counted, I had at least 15...
My Main is Currently a level 83 Tauran Resto Druid on the Server Mug'thol US.
I also have a level 88 Blood Elf Frost Death Knight on the same server.