WoWWiki Admin
| | |
| --- | --- |
| | This user prefers Druid magic. |
| | |
| --- | --- |
| | This user prefers to PvP. |
| | |
| --- | --- |
| | This user plays as a DPS. |

This user is
an expert
concerning the Riding profession and mounts at WoWWiki!
"It's better to be a smart-ass than a dumb-ass." - My Father
Intro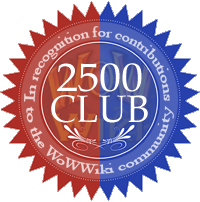 This user is a venerable member of
the
2500 club
!
I'm a university student with a love of computers and an obsession with World of Warcraft. If you have a question or need some help feel free to leave a message on my talk page. I'm usually on in the evenings.
For The Horde!
WoWWiki roles
Sandbox
Current projects
Filling in the Out of game mounts on the Mount page.
Updating Stormstout Brewery instance pages.
Policing for vandalism.
To-Do list
Main characters
85 Night Elf Feral Druid.
88 Blood Elf Frost Death Knight.
My links
These are links for Macrophager's use only!