This article is a player character biography page The contents herein are entirely player made and in no way represent official World of Warcraft history or occurrences which are accurate for all realms. The characters and events listed are of an independent nature and applied for roleplaying, fictional, speculative, or opinions from a limited playerbase only.
Please make sure player character articles are named properly - see the player character articles policy.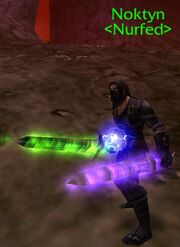 A former Nurfed tank that is the first, and to this day, only person to ever receive the legendary neck, [Talisman of Binding Shard]. Noktyn, formerly of Nurfed on Dethecus, has since rerolled to the Kel'Thuzad downing guild Notorious on Tichondrius.
The character with it equiped is Savorx on Blackrock. http://us.battle.net/wow/en/character/blackrock/Savorx/simple The item displays as error loading tooltip but the url shows the item id to be 17782 which is talisman of the binding shard.