This article is a player character biography page The contents herein are entirely player made and in no way represent official World of Warcraft history or occurrences which are accurate for all realms. The characters and events listed are of an independent nature and applied for roleplaying, fictional, speculative, or opinions from a limited playerbase only.
Please make sure player character articles are named properly - see the player character articles policy.
Armory Link
Edit
http://www.wowarmory.com/character-sheet.xml?r=Shattered+Hand&n=Lionfury
Biography
Edit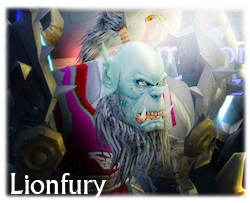 This character was originally called Kupon. Is one of player who made while TBC Launched in oringal server of first day WoW open. This character is not my first main. First main ever I had was Fexil 60 tauren the druid from Elune server then reroll warlock Tharll 60 orc on Elune server also the reason why I reroll because due to share account with brother. Finally thing getting chaos in Elune server I decided to left that server and join my brother on Shattered Hand as Rogue named Fexy Alliance Night elf. I joined my brother's guild called Forgotten Lord there was bunch of warm heart alliance people. I thought I'd able last as alliance but only stayed alliance for one year. When TBC Launched came I start grow bored of alliance I love horde so much I decide to reroll horde and leave alliance side. At this point also Forgotten Lord was fall aparts. I finally made shaman named Kargath, orc 70 to be main, then I start grow bored of shaman too, and start playing druid Zace, tauren druid 70, Grow bored of him because was kept forced to healing. And hence this where Kupon come. Been playing Kupon for ever since two years. He was my alt also when I had Zace & Kargath.
I named Kupon for the reason was Kupo the Final Fantasy Moggle! I love those furry bat. I decide to use their name as honor but thing going different way, everyone calling me Coupon and I cant stand it anymore! I decide to pay a visit to Goblin to change me to female orc and they gave me a unique name Targix! Lately then I realize thing isn't going my way as it used to be. I decide to force goblin give me refund and thats hence where Lionfury come in!
I start grown love the hunter class and the pet. I saw a fine wolf cross my path and I decide to tamed it and named it Balto. We've through so many thing together he is best pet ever I could ask for! I've also tamed the spirit beast called Skoll I decide to gift it as named Trevor for my friend who found for me. And my beloved black lion named Kupo. I played as BM for all two years. I decide to join PVE guild raid once again and I've show beserek of Lionfury meaning to all boss. And each of them fall in my hand. I start notice I slowly collect all mount in the game, and the achievement point in the game. I recently got 9th place of the shattered hand for achievement point.
I've take many offer of new home of guild I finally found WGF (Original called Warcraft Gaming Faction in Pre-BC But Reform in Wotlk) And I stayed there until they fall apart when Aion come. I decide to move and found new home and I found XL Gaming as home. Bunch of people welcome me with their warm arm. I start raiding and showing the more boss falling in my hand!
About Lionfury's Achievement
Edit
This user has a strong interest in articles on

lore

.
| | |
| --- | --- |
| | This user has too many 70s, get a life. |
This user misses the old, boring epic

AVs

.
This user misses the

zeppelin

by a few seconds every damn time.
This user plays as a member of the

Horde

.
This user plays as an

orc

.
| | |
| --- | --- |
| | This user has reached level 85. |
| | |
| --- | --- |
| | This user plays as a male character. |
| | |
| --- | --- |
| | This user is female but plays all or mostly male characters, by choice! |
This user's character has cleared 10-man

Ulduar

.
This user's character has cleared the newly revamped

Onyxia

..
This user's character has defeated the old

Onyxia

before her revamp.
This user's character has cleared

Karazhan

.
This user's character has cleared

Zul'Aman

.
This user's character has cleared

The Eye

.
This user's character is not a

Huntard

.



This user has played with all

professions

.



This user is an avid

pet

collector.
This user's character has obtained a

Nether Ray

mount.
This user's character has obtained a

Talbuk

mount.
Template:User Razzashi Raptor
This player has earned the title
Crusader.
This player has earned the title


Elder

.
This player has earned the title


Patron

.
| | |
| --- | --- |
| | This user's character is a Champion of the Undercity. |
| | |
| --- | --- |
| | This user's character is a Champion of Thunder Bluff. |
| | |
| --- | --- |
| | This user's character is a Champion of Silvermoon. |
| | |
| --- | --- |
| | This user's character is a Champion of Sen'jin. |
| | |
| --- | --- |
| | This user's character is a Champion of Orgrimmar. |