103,871pages on
this wiki
Talk

0
This is a mock-up page to show what an Ammunition page would look like if the Arrow and Bullet page would be merged into it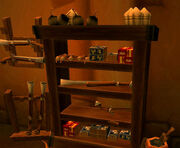 Ammunition is used by ranged weapons, such as bows, guns and crossbows. Guns use bullets and shot, while bows and crossbows use arrows. Engineers can make ammunition for guns, but arrows must be purchased from an ammo vendor (a General Goods Supplier will usually have them.).
When engineers can make Thorium Shells, they can trade them in for Thorium Arrows. Alliance players can make the trade in Ironforge, While Horde players can make the trade in Orgrimmar, near the miner trainer.
Arrows are ammo for bows and crossbows. Better arrows have better DPS bonuses. One stack includes 200 arrows.
All prices are per stack of 200.
Note there is no ammo specifically for Crossbows - all arrows are usable with both Bows and Crossbows (real world crossbow bolts are quite different from bow arrows).

[

Ice Threaded Arrow

]

have an icy-blue glow, and seem to be the only way to apply a glow to a ranged weapon.
Patch 2.3 added the first ever crafted arrows Adamantite Stinger made by Engineers
Bullets are ammo for Guns. Better bullets have better DPS bonuses. Pellets, Pebbles, Shells, Shot, and Slugs are all types of bullets. One bullet stack includes 200 bullets.
All prices are base prices (before reputation discount) per stack of 200.