Halduron/Waves of Shadow expansion
102,924pages on
this wiki
Talk

0
Two new races
Edit
New Horde race

Racials:Cill of the Tides:+5 frost resistence.
Serpent Scream:Lets out a sream that makes two enemies to run in fear.
Aquatic Life:Permanent water breath.
Masters of the Arcane:+ 10 Enchanting
Classes: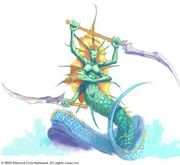 Mage

Priest

Warlock

Warrior

Hunter

Death Knight
Background
Edit
During ages of torture and despaire by Queen Azshara,a gruop of rebels conspired to take over Nazjatar,but neverer made it.Exiled,the large group known as The Deep Conver, led by Lord Nazshar and Lady Shadowscale the rebels buildet a new capital known as Nazshan'Arat.Months later, a group of Blood Elves andForsaken found and helped the remnants during a battle.Now the Naga rebels fight aside the Horde.Naga players start Friendley with Undercity and Silvermoon,but neutral with the others.
New Alliance Race

Racials:Natural Torent:Earth Shock's a target dealing 10-11 nature damage and intrerupting any spell casting for 10 mana.
Sun Blessing:Heals 10-20 damage from a friendley target.
Masters of Experiments:+ 10 Alchemy
Power of the Highborne:+ 15 Armour and +10 resistance to all tipe of spell damage
Classes:

Mage

Hunter

Priest

Warrior
Druid
Paladin

Death Knight
Background
Edit
Years have past since the second war,but finaly Alleria Windrunner,has returned with a deram:to create a new home for the High Elves.With the help of the humans,a new capital Silverwing City was build.The City resemble Silvermoon but not enierly.paladins and Warlocks are a few,forbitten by law.With her siterVereesa as the ranger general the fortres was wall guardet.Stagelm heard about the atemts of the High Elven Druid Silverleaf of creeatin a new sunwell,he sent a message to him with the demand that the night elves and the high elves will use it to regain imortallity.Silverleaf and Tyrande refused,the Starwell,as it was called,will be used only to protect them from the Horde.Now,with the aid of the Night Elves,the High Elves wait to help the Alliance when they can.
New things
Edit
Two new ports to Booty bay:Port Royal and Suran'Ashal.The Broken Iles,Tomb of Sargeras,Temple of the Shadow.New City in Shatrah:Tirisfal Quarter.