103,861pages on
this wiki
Talk

0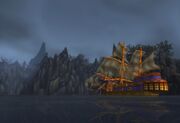 The Pardon's Wing serves as the flagship of The Westwind Buccaneers under the command of Admiral Relnor. Though the ship, along with the rest of the Westwind Fleet, traverse the globe frequently, the Pardon's Wing has often been seen in the Stormwind Harbor for repairs and resupply.
The ship was built and framed in Menethil Harbor, and was bought by the Admiral shortly after it's completion.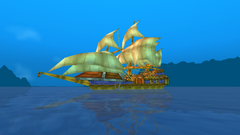 The Pardon's Wing can hold a crew of around thirty considering many custom adjustments to the layout and rigging. There remains ample storage space aboard and the crew of the Buccaneers have retrofitted a makeshift brig out of a storage compartment on the second landing of the ships interior. She can host up to six large cannons at the expense of cargo space.
The Pardon's Wing is only one ship out of a selection within the Westwind Fleet, with the others being The Albacore and The Second Chance. Though the Pardon's Wing serves as the flagship, the Second Chance is much more heavily armed.