Don't let the smile fool you... <imagelink>Gengar orange.gif|WoWWiki:Crazy people</imagelink> ...but how can you not love that smile?
Intro
Fandyllic is a <imagelink>mono-apple-logo-tiny.gif|wikipedia:Apple Computer</imagelink> Mac gamer (yes, we do exist), but like most other schlubs has to use a PC at work (although I must say, I have a pretty nice IBM ThinkPad). The only other MMORPG he has played before World of Warcraft is the hardcore, PvP game Shadowbane and found it lacking. Never played Everquest, for some reason.
You can find my e-mail address here, but I don't check it more than about once a week.
Apparently, I am one of the Crazy people on WoWWiki. I think this is a good thing, but one can never be sure... ;-)

<imagelink>old_mac_lineart.png|Mac</imagelink> At home, I have 15" MacBook Pro (Core 2 Duo) 2.33Ghz, 2 Gb RAM.
IBM At work, I have 15" ThinkPad T42p Centrino (Pentium M) 2Ghz, 1 Gb RAM.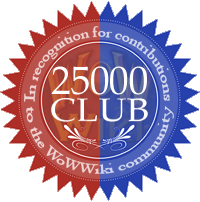 This user is a legendary member of
the
25000 club
!
WoWWiki Roles
Sandbox
For my own use, but you can look at my sandbox or sandbox2, if you like. I also have semi-complete list of Blizzard folks who post on the forums which used to be part of my sandbox.
Worklog
I've started a worklog that I'll try to keep semi up-to-date, if anyone's interested in what I generally work on.
Characters
If you want to use the table format below for your characters, feel free. - Template:Adminsig/Fandyllic
† Probable talent respec.
Profession Detail of Characters
---
User Info
Template:User Level 70
| | |
| --- | --- |
| | This user plays as a male character. |
This user plays as a

female

character.
| | |
| --- | --- |
| Rouge = Red | This user can spell Rogue . |
Although I didn't play Warcraft III that much...
Template:User druid
Template:User SkinnerLeatherworker
Template:User paladin
Template:User MinerBlacksmith
Template:User priest
Template:User TailorJeweler
Template:User rogue
Template:User EnchanterEngineer
Template:User warlock
Template:User HerbalistAlchemist