This article is a player information page

The contents herein are entirely player made and in no way represent official World of Warcraft history or occurrences which are accurate for all realms. The characters and events listed are of an independent nature and applied for roleplaying, fictional, speculative, or opinions from a limited playerbase only. Please make sure player character articles are in user namespaces - see the personal article policy.
Description
Edit
I was one of the original open beta testers. I own a copy of the collector's edition of the game and have a large number of toons on many servers. My first characters were on Icecrown and Terenas (all of them were made the night after the game was released).
I live in Boise, Idaho, USA, which is in the Mountain Time Zone.
Currently I am playing Chirip on Sen'jin. I play some of the others when I either can't play Chirip because the server is down, or I am working on one of my ALTs on Sen'jin. I also have a Burning Crusade Collector's Edition and Wrath of the Lich King Collector's Edition for my continuing game play.
Game Play Goals
Edit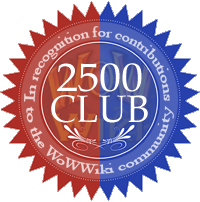 This user is a venerable member of
the
2500 club
!
Chirip (Imba):

Get my Tempest Keep Key. (not required any more, but In-progress)
Get all keys and attunements from BC areas. (In-Process, need black temple and mount hyjal)

I know there are more, but I can't remember them at the moment.


Grinnbearit (Imba)

Get Exalted with Argent Dawn (Revered Now)

I also have a goal of getting all of my toons above level 20 before the end of the year. I have most of them there, but some are still needing work.
Goals for my Guild
Edit
As the guild leader for Casual Gamerz, I have some goals that I would like to get done to better run the guild.
Get 2 class leaders for each class in the guild. At the moment there are 4 class leaders and I need 16.
Get 2 raid leaders who will run raids for the guild as a whole.
Help people in the guild get all the attunements they want to get and help go to any instance we want to do.
Help people get their characters to level 70.
Help people get groups going so they learn to work together to better run as groups for instances and raids.
Help people work together to get Tier 3.5, 4 and 5 gear.
Improve Guild Website.
Play Schedule
Edit
Sunday - Thursday I usually am on from 9:00pm-11:30pm Server Time.
Friday - Saturday I try to get on before 9:00pm and play until 2:00am or 3:00am.

From time to time, I can get on as early as 8:00pm, but I can't count on it.

As the guild leader for Casual Gamerz, I am looking to start running raids, and I guess my first job is to figure out which to do first.  :)

On Tuesdays I work on my horde characters. So you will usually find me on Ventrilo, but you will not see me in game unless you are a member of the Cazual Gamerz guild. If you are not a member, and would like to be, do an ingame /who Cazual Gamerz and see who is on and ask for an invite.


TCG Cards
Edit
I have started working on building a list of all the TCG cards I have. I have a page for Hero's Of Azeroth so far.

Character Info
Edit
Below is a list of all of my toons:
You can also look at my cursed gaming profile.



My toon stats
Edit
Males: 25 (Blood Elf: 1, Draenei: 2, Dwarf: 4, Gnome: 3, Human: 4, Night Elf: 2, Orc: 1, Tauren: 6, Troll: 1, Undead: 1)
Females: 17 (Blood Elf: 2, Draenei: 0, Dwarf: 2, Gnome: 5, Human: 1, Night Elf: 1, Orc: 1, Tauren: 3, Troll: 1, Undead: 1)

Alliance: 24 (Draenei: 2, Dwarf: 6, Gnome: 8, Human: 5, Night Elf: 3)
Horde: 18 (Blood Elf: 3, Orc: 2, Tauren: 9, Troll: 2, Undead: 2)


Toons by class
Edit

Death Knight: 5 (Females: 2, Males: 3)

Druid: 4 (Males: 4)

Hunter: 7 (Females: 4, Males: 3)

Mage: 4 (Females: 4)

Paladin: 6 (Females: 1, Males: 5)
Priest: 3 (Females: 2, Males: 1)

Rogue: 4 (Females: 1, Males: 3)

Shaman: 3 (Females: 1, Males: 2)

Warlock: 2 (Males: 2)

Warrior: 5 (Females: 3, Males: 2)


Instances Run
Edit
Below is a list of all of the instances in the game. Most lower level ones I have run and have on a farm status. Some of the higher level ones are also on farm status. I am trying to let people know with this what I can run and what I need help running. This is kind of a combination of all the toons I have and what they have done and not done. Most of the status here is for Chirip on Sen'jin, but not all of it.


Outland
Name
Key
Status
Hellfire Ramparts
Heroic Mode:

[

Flamewrought Key

]

Farm for normal, Not done Heroic
Blood Furnace
Heroic Mode:

[

Flamewrought Key

]

Farm for normal, Not done Heroic
The Shattered Halls

[

Shattered Halls Key

]


Heroic Mode:

[

Flamewrought Key

]

I have the Shattered Halls Key, Run several times not done Heroic
Magtheridon's Lair
N/A
Not Run Yet
The Slave Pens
Heroic Mode:

[

Reservoir Key

]

Farm for Normal, Not done Heroic
The Underbog
Heroic Mode:

[

Reservoir Key

]

Farm for Normal, Not done Heroic
The Steamvault
Heroic Mode:

[

Reservoir Key

]

Run several times, Not done Heroic
Serpentshrine Cavern
The Mark of Vashj
Not Attuned
Mana Tombs
Heroic Mode:

[

Auchenai Key

]

Run twice, still have not done the escort quest at the end.
Auchenai Crypts
Heroic Mode:

[

Auchenai Key

]

Not Run Yet
Sethekk Halls
Heroic Mode:

[

Auchenai Key

]

Run One Time, not completed. Not run in Heroic.
Shadow Labyrinth

[

Shadow Labyrinth Key

]


Heroic Mode:

[

Auchenai Key

]

Not Keyed, I have run several times. Not done in Heroic.
The Mechanar
Heroic Mode:

[

Warpforged Key

]

Run Once
The Botanica
Heroic Mode:

[

Warpforged Key

]

Run Twice
The Arcatraz

[

Key to the Arcatraz

]


Heroic Mode:

[

Warpforged Key

]

Not run, been inside
The Eye

[

The Tempest Key

]

Not Keyed, need to do the heroic runs
Gruul's Lair
N/A
Not Run
Black Temple

[

Medallion of Karabor

]

Not Run, up to

The Secret Compromised