Avemorielle of the Verdant Compass
Edit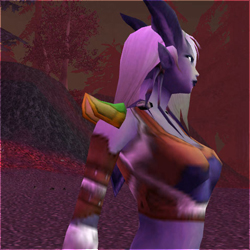 Server: The Scryers
Class: Hunter
Guild: Society of Role-Players (Officer)
Avemorielle at the Blizzard Armoury
Role in the Verdant Compass
Edit
The leader of the Compass is a draenei hunter named Avemorielle. Partially sharing the responsibility of leadership with her moth companion, Pantalaimon, she carries the role to the best of her ability in spite of her taciturn nature. She is still developing social skills after her near-death in the crash of the Exodar.
Ave is good-hearted, but often shows frustration when having to deal with people whom she does not know.
Pantalaimon understands Ave's difficulties, and so he aids her as a mediator when needed. He is often sent as an emissary to other Compass members outside of the camp, to help avoid unnecessary attention when messages must be passed.
It is rumored that Avemorielle is looking to condition another compass member to take her place as leader; she would like to focus on her role as the Compass' strategic planner.
Personal History
Edit
Avemorielle suffered head trauma during the crash of the Exodar. The damage was not severe, but it caused selective amnesia: she has forgotten the names of several people and places, including her own name, though the remainder of her memory seems otherwise in tact. The shock of having forgotten her own name, while maintaining information about her identity, caused a period of disquiet for her, and for weeks after the crash she couldn't bring herself to talk to anyone.
She met Pantalaimon on Azuremist Isle, and the creature has fast become her friend. He is a patient and devoted protector; where he lacks in staying power he more than makes up for in offensive ability.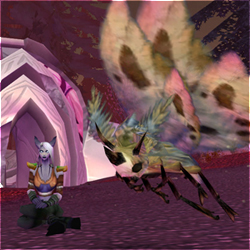 Pantalaimon
Edit
Avemorielle isn't altogether bad at socializing, but she does have trouble with new people she doesn't know very well. The strong, silent type, she avoids awkward moments by making herself scarce when things get uncomfortable. Pantalaimon has expressed faith that Ave will grow used to people again, and that she will blossom as a leader -- out of necessity, if nothing else.
About the name "Avemorielle"
Edit
Obviously, this wasn't her given name. After the crash, Avemorielle wandered off in a daze, ending up in a nearby Night Elf encampment. After their initial shock of seeing her -- they could somehow sense that she could not be an Eredar -- the elves realized that she was very badly hurt and tended to her wounds. Giving the girl a name -- at least until she could remember her old one -- the Night Elves only helped her return to the crash site once they knew that she was able to make the trip safely.
Hobbies and Talents
Edit
Ave is a lover of nature, and her dedication to the art of herbalism shows it. She also practices the ancient art of inscription, though she doesn't consider herself very good. She thinks that her handwriting is "atrocious" in spite of Pantalaimon's insistence on the contrary.