The subject of this article was removed from World of Warcraft in patch 4.0.1.

This includes items and quests that can no longer be obtained.
The in-game information in this article is kept purely for historical purposes and should probably not be under any other categories.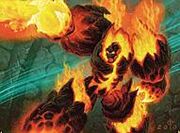 Unholy Power is a talent in the Demonology tree, you will need to spend 20 points in Demonology to max it. It increases the damage done by your Voidwalker, Succubus, Felhunter and Felguard's melee attacks and your Imp's Firebolt by 20% at max rank.
Rank table
Edit
| Rank | Effect |
| --- | --- |
| 1 | 4% |
| 2 | 8% |
| 3 | 12% |
| 4 | 16% |
| 5 | 20% |
While the benefits of this talent will be minimal at best if you favor a Voidwalker and completely non-existent if you use an Imp, Warlocks who frequently use their Felhunters or Succubi will get significant mileage from this talent. Also the new Shadow and Fire damage increase implemented to the talent after Burning Crusade expansion makes this talent one of the core talents for Demonology warlocks.
Patch changes
Edit
External links
Edit