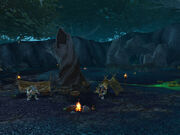 Underlight Mines [29, 48] is a digsite and mine in the Ghostlands which has been taken over by gnolls. It is located just west of Bleeding Ziggurat and north of the road between Tranquillien and Windrunner Village/Windrunner Spire.
Ad blocker interference detected!
Wikia is a free-to-use site that makes money from advertising. We have a modified experience for viewers using ad blockers

Wikia is not accessible if you've made further modifications. Remove the custom ad blocker rule(s) and the page will load as expected.