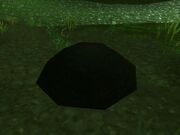 Un'Goro Dirt Piles can be found throughout Un'Goro Crater.
The pile of dirt contains 1-4 [Un'Goro Soil] for multiple uses.
The dirt piles seem to spawn regularly around some of the larger trees in the area. It may be faster to simply run from tree to tree rather than chancing a loot drop.
External links
Edit