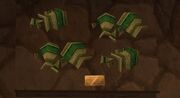 The Uldaman Reliefs is located in the Hall of Explorers in Ironforge. [64.6, 2.3]
These etched relief runners were perhaps the most significant find within the first chambers of Uldaman. The etchings clearly suggest a tie between the golem-like earthen and the dwarven race. Should further evidence arise, the theories of our supposed creation by the mythic titans could prove to be true.
External links
Edit
Ad blocker interference detected!
Wikia is a free-to-use site that makes money from advertising. We have a modified experience for viewers using ad blockers

Wikia is not accessible if you've made further modifications. Remove the custom ad blocker rule(s) and the page will load as expected.