Thane Ufrang the Mighty sits in Ufrang's Hall in Icecrown. The thane is patient, with a head for strategy and warfare. He's also shown a penchant for biding his time and not wanting to overplay his hand in the ongoing battle. He sits on his throne while recieving reports from a Jotunheim Warrior kneeling before him, and makes executive orders in response.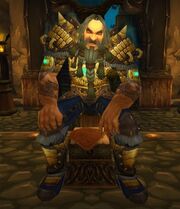 Abilities
Edit
  

[Mortal Strike]

ω ϖ— Inflicts 150% weapon damage and leaves the target wounded, reducing the effectiveness of any healing by 50% for 5 sec.
  

[Powerful Smash]

ω ϖ 8 yd range— Inflicts 150 - 250% of weapon damage to an enemy, knocking it back.
Objective of
Edit
References
Edit
External links
Edit
Ad blocker interference detected!
Wikia is a free-to-use site that makes money from advertising. We have a modified experience for viewers using ad blockers

Wikia is not accessible if you've made further modifications. Remove the custom ad blocker rule(s) and the page will load as expected.