Tyrael's Hilt

Item Level

20

Use: Teaches you how to summon this companion.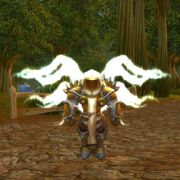 Tyrael's Hilt summons an in-game companion angel, Tyrael. He responds to emotes such as /dance.
Participants of the 2008 Blizzard Worldwide Invitational in France were given a code that unlocked this pet in-game.
The item can be acquired from the following NPCs by redeeming the WWI promotion codes:
Tyrael's Hilt can still be obtained in-game, provided you have or somehow acquire an unused redemption code.
Inspiration
Edit
His name and appearance comes from Archangel Tyrael, a character from Blizzard's Diablo series.
External links
Edit
Ad blocker interference detected!
Wikia is a free-to-use site that makes money from advertising. We have a modified experience for viewers using ad blockers

Wikia is not accessible if you've made further modifications. Remove the custom ad blocker rule(s) and the page will load as expected.