For the Inscription-created item, see Twilight Tome (item).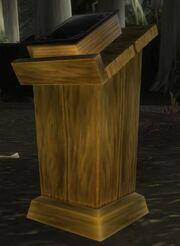 The
Twilight Tome
is an ancient book used by the
Twilight's Hammer clan
in the
Darkshore
.
[38.6, 68.1]
It's written in an ancient language, and illustrated by a master artist. You can't read it as the text twists into grotesque shapes, if you try it. When bringing the
[

Insane Scribbles

]
to
Onu
he senses the chaotic, primal magic of the old ones in it.
 [17] 

The Twilight Camp

 [17] 

Return to Onu
There are two tomes at the site, only the northern will complete the quest. The one in the south will knock you down with a demonic hand.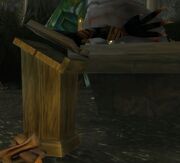 In Diablo 2, another game by Blizzard, there is a Twilight Tome in the Stony Field that starts a quest to kill the evil Countess.
External links
Edit