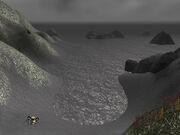 For the subzone of the similar name in the Twilight Highlands, see Twilight Shore (Twilight Highlands).
The Twilight Shore is a stretch of coast in southern Darkshore. It lies south of the Long Wash, which ends due west of Ameth'Aran, and runs all the way south to Ashenvale. The Twilight Shore is the most rugged part of Darkshore's coast, and the gray beaches get broken up by jutting cliffs and small islands in the south. Murlocs are abundant here, and the waters bulge with aggressive threshadons who do not hesitate to attack adventurers swimming for shore.
External links
Edit
Ad blocker interference detected!
Wikia is a free-to-use site that makes money from advertising. We have a modified experience for viewers using ad blockers

Wikia is not accessible if you've made further modifications. Remove the custom ad blocker rule(s) and the page will load as expected.