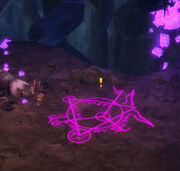 The Twilight Rune of Earth can be found within the Elementium Depths[37.6, 88.5] of the Twilight Highlands. It is one of several runes of power the Twilight's Hammer clan is using, runes that Initiate Goldmine and the Earthen Ring wish to see destroyed.
The Rune of Earth can be found by going down further into the Depths after Mr. Goldmine's Wild Ride. It is at the bottom of the short flight of stairs, and it is highly suggested that players pick up the below quest immediately.
Patch changes
Edit
External links
Edit
Ad blocker interference detected!
Wikia is a free-to-use site that makes money from advertising. We have a modified experience for viewers using ad blockers

Wikia is not accessible if you've made further modifications. Remove the custom ad blocker rule(s) and the page will load as expected.