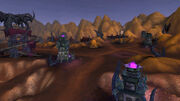 The Twilight Bulwark, located in Thousand Needles, can be found on the shelf above where the Screeching Canyon and Roguefeather Den used to be prior to being submerged during the Cataclysm. It is home to a large contingent of Twilight cultists.
Ad blocker interference detected!
Wikia is a free-to-use site that makes money from advertising. We have a modified experience for viewers using ad blockers

Wikia is not accessible if you've made further modifications. Remove the custom ad blocker rule(s) and the page will load as expected.