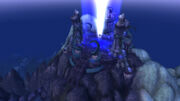 The Altar of Twilight[45.4, 88] (also known as the Twilight Altar of Shadows or the Last Altar of Storm) is found in the southern section of the Twilight Citadel in the Twilight Highlands. It is here The Hammer of Twilight rests, the mighty weapon crafted from molten blood, imbued with the power of the Old Gods, left in the open as a perfect trap for those wishing to subvert Cho'gall and undermine his plans.
This is the location of the final battle and quest in the Twilight Highlands.
Inhabitants
Edit
Objects
NPCs ( Alliance quest)
NPCs ( Horde quest)
Mobs
Patch changes
Edit
External links
Edit
Ad blocker interference detected!
Wikia is a free-to-use site that makes money from advertising. We have a modified experience for viewers using ad blockers

Wikia is not accessible if you've made further modifications. Remove the custom ad blocker rule(s) and the page will load as expected.