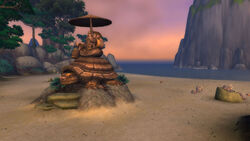 Turtle Beach is the stretch of shoreline east of the Incursion in the Krasarang Wilds. The turtle monument erected there tells the story of how Liu Lang set forth to explore the world on the back of Shen-zin Su. Liu would return every five years in his travels, his turtle growing larger, and would take those pandaren stricken with wanderlust with him.
Inhabitants
Edit
Patch changes
Edit
External links
Edit
Ad blocker interference detected!
Wikia is a free-to-use site that makes money from advertising. We have a modified experience for viewers using ad blockers

Wikia is not accessible if you've made further modifications. Remove the custom ad blocker rule(s) and the page will load as expected.