Tua'kea Crab Trap

"Clickety-clack!"
Tua'kea Crab Traps can be found all over the sea floor near the Moa'ki Harbor in Dragonblight.
Objective of
Edit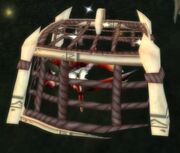 This item is an objective of the quest

 [72] Tua'kea's Crab Traps.
This is a different object than the Wrecked Crab Trap, which starts the quest

 [72] Signs of Big Watery Trouble.
External links
Edit