The Truesilver Champion is two-handed sword that will sometimes put up an absorption shield (similar to the Priest spell Power Word: Shield) when the wielder is hit. The shield will absorb 175 points of damage before it disappears.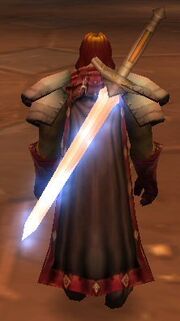 The Truesilver Champion is crafted by Blacksmiths with a skill level of 260. (Weaponsmithing specialization is not required.)
The plans are learned from the Weaponsmith Trainer.
Commonly known as the "Poor Man's Champion".
External links
Edit
Ad blocker interference detected!
Wikia is a free-to-use site that makes money from advertising. We have a modified experience for viewers using ad blockers

Wikia is not accessible if you've made further modifications. Remove the custom ad blocker rule(s) and the page will load as expected.