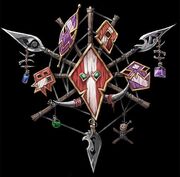 The Icon of Shadows is the racial crest of the trolls, and symbolizes their worship of dark loa and use of shadowy voodoo magics. The crest features a tusked tiki mask resting atop a trio of spears, representing the Darkspear tribe. Dark leather straps criss-cross the shafts of the spears and additional wooden staves, forming a web from which hang a variety of fetishes, alchemical concoctions, and a voodoo doll.
See also
Edit
Ad blocker interference detected!
Wikia is a free-to-use site that makes money from advertising. We have a modified experience for viewers using ad blockers

Wikia is not accessible if you've made further modifications. Remove the custom ad blocker rule(s) and the page will load as expected.