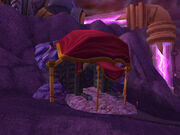 Trelleum Mine is the small shaft dug into the side of the floating island that Manaforge Ara sits upon. It is run by demons of the Burning Legion, and overseen by Kael'thas' blood elves. It is the sole supply of material for running the forges. It is run by Overmaster Grindgarr.
Ad blocker interference detected!
Wikia is a free-to-use site that makes money from advertising. We have a modified experience for viewers using ad blockers

Wikia is not accessible if you've made further modifications. Remove the custom ad blocker rule(s) and the page will load as expected.