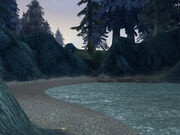 Traitor's Cove is located on the eastern shore of Silvermyst Isle. It is nothing but a deserted area of sand, with no plant or animal life, which has led to Engineer "Spark" Overgrind and Geezle picking this secluded, empty spot for their "evil" secret meetings.
See also:  [9] 

Tree's Company

 
Ad blocker interference detected!
Wikia is a free-to-use site that makes money from advertising. We have a modified experience for viewers using ad blockers

Wikia is not accessible if you've made further modifications. Remove the custom ad blocker rule(s) and the page will load as expected.