103,890pages on
this wiki
Talk

1
This article or section contains information that is out-of-date.

Please replace the old information with up to date information.
This may include rewriting sections to ensure they are clear and concise, and wikifying.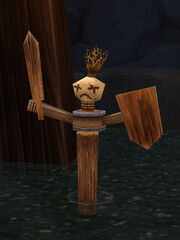 Training Dummies are mechanical NPCs that enables you to test your dps out on different level mobs. Training dummies are located in all capital cities.
Located in most major cities
Located in Acherus: The Ebon Hold
Others
Since Cataclysm
Edit

This section concerns content exclusive to Cataclysm.
There are also level 3 Training Dummies in Eversong Woods, Elwynn Forest, Durotar, Trisfal Glades, Mulgore, Teldrassil, Dun Morogh, Kezan and Azuremyst Isle.
Locations
Edit
Alliance
Horde
Patch changes
Edit
References
Edit
See also
Edit
Patch 4.0.3 (15-Nov-2010): Added starting zone training dummies.

/ Patch 3.0.2 (14-Oct-2008): Added Initiate's Training Dummy and Raider's Training Dummy.

External links
Edit
Training Dummies (Level 1 to 3)
Level 1
Scarlet Monastery
Level 1 Hellfire Training Dummy
Shattered Halls
Level 3 Alliance
 Draenei
Ammen Vale,
Azuremyst Isle

 Dwarf
Coldridge Valley,
Dun Morogh

 Gnome
New Tinkertown,
Dun Morogh

 Human
Northshire,
Elwynn Forest

 Night elf
Shadowglen
Teldrassil

Level 3 Horde
 Tauren
Camp Narache,
Mulgore

 Undead
Deathknell,
Tirisfal Glades

 Goblin
Kezan
Lost Isles

 Blood elf
Sunstrider Isle
Eversong Woods

 Orc Troll
Valley of Trials
Durotar

Training Dummies (Level 55 to 95)
Level 55
Level 60
Level 65
Initiate's Training Dummy
Eastern Plaguelands
Initiate's Training Dummy
Plaguelands: The Scarlet Enclave
Darnassus, Orgrimmar,
Stormwind City, Thunder Bluff,
and Undercity
Disciple's Training Dummy
Eastern Plaguelands
Level 70
Level 75
Level 80
Darnassus, Orgrimmar,
Stormwind City, Thunder Bluff,
and Undercity
Veteran's Training Dummy
Eastern Plaguelands
Ebon Knight's
Training Dummy
Darnassus, Orgrimmar,
Ruins of Gilneas, Silvermoon City,
and Undercity
Level 85
Level 90
Level 95
Orgrimmar, Stormwind City
Razor Hill, Durotar
Shrines in Vale of Eternal Blossoms
Talador
Training Dummies (Level 100 and up)
Level 100
Frostwall and Lunarfall
Lunarfall-only
Damage
Healing
Normal
Healing
Frostwall
Stormshield
Warspear
Damage
Healing
Level 102 Dungeoneer's Training Dummy
Frostwall
Lunarfall
Damage
Tanking
Damage
Tanking
Stormshield
Warspear
Hellfire Citadel
Tanking
Tanking
Training Dummy
Raider's