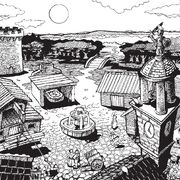 A town is not large enough to be a city, but is a gathering of several NPCs and buildings. Sometimes called a "hamlet", "village", etc.
The distinction between a town and a very small settlement is fuzzy, but towns usually have more than one building, a flight path, and multiple vendors, but no bank or auction house and sometimes not even an inn. There are usually towns on the path towards cities or raids.
Ad blocker interference detected!
Wikia is a free-to-use site that makes money from advertising. We have a modified experience for viewers using ad blockers

Wikia is not accessible if you've made further modifications. Remove the custom ad blocker rule(s) and the page will load as expected.