Tome of the Ice Lord

Item Level

65

+9 Intellect
Requires level 60
Equip: Increases spell power by 28.
Vendor 10000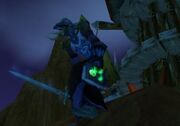 Tome of the Ice Lord is an Alterac Valley Reputation reward that gives the wearer a high bonus to frost spell damage.
Tome of the Ice Lord is sold by one of the Supply Officers for Alterac Valley:
To purchase this Off-hand, Alliance players mustbe Exalted with the Stormpike Guard and Horde players must be Exalted with the Frostwolf Clan.
Patch changes
Edit
External links
Edit
Ad blocker interference detected!
Wikia is a free-to-use site that makes money from advertising. We have a modified experience for viewers using ad blockers

Wikia is not accessible if you've made further modifications. Remove the custom ad blocker rule(s) and the page will load as expected.