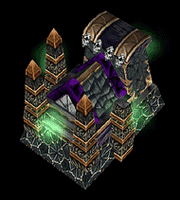 Tomb of Relics is a shop from which any unit that has an inventory window can purchase items. The items available are dependant upon what level of upgrade your necropolis has (Necropolis, Halls of the Dead, or Black Citadel) and what buildings you have. Heroes can also sell unwanted items to any item shop.[1]
References
Edit
External links
Edit

Blizzard Entertainment
Ad blocker interference detected!
Wikia is a free-to-use site that makes money from advertising. We have a modified experience for viewers using ad blockers

Wikia is not accessible if you've made further modifications. Remove the custom ad blocker rule(s) and the page will load as expected.