Toasting Goblet

Use: Raise a toast to your friend!
3 Charges
When used, it gives the Toast buff, a +20 Stamina buff, to a friendly target.
As an object
Edit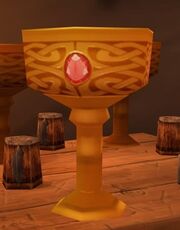 The Toasting Goblet is found on inn tables in the cities of Azeroth. It is only available during the New Year event.
External links
Edit
Ad blocker interference detected!
Wikia is a free-to-use site that makes money from advertising. We have a modified experience for viewers using ad blockers

Wikia is not accessible if you've made further modifications. Remove the custom ad blocker rule(s) and the page will load as expected.