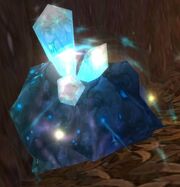 Titanium Veins are rare mining nodes that primarily spawn in areas where you will find Saronite Deposits. It requires a mining level of 450 to mine.
Locations
Edit
Titanium Vein can be found in
Wintergrasp
Icecrown
Sholazar Basin
Storm Peaks
Dragonblight
When this vein is mined it produces Titanium Ore
Gems and Elementals mined
Edit
Elementals:


 [Crystallized Air]


 [Crystallized Earth]


 [Crystallized Fire]


 [Crystallized Water]
Uncommon gems:


 [Bloodstone]


 [Chalcedony]


 [Dark Jade]


 [Huge Citrine]


 [Shadow Crystal]


 [Sun Crystal]
Rare gems:


 [Autumn's Glow]


 [Forest Emerald]


 [Monarch Topaz]


 [Scarlet Ruby]


 [Twilight Opal]


 [Sky Sapphire]
External links
Edit
Ad blocker interference detected!
Wikia is a free-to-use site that makes money from advertising. We have a modified experience for viewers using ad blockers

Wikia is not accessible if you've made further modifications. Remove the custom ad blocker rule(s) and the page will load as expected.