Tiny White Carp

Use: Teaches you how to summon and dismiss this companion.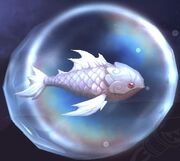 Tiny White Carp summons an Aquatic Battle pet Companion of the same name. It can be fished in The Veiled Stair, Dread Wastes, Isle of Giants, Isle of Thunder, Kun-Lai Summit, Timeless Isle, Krasarang Wilds, and The Jade Forest.
Ad blocker interference detected!
Wikia is a free-to-use site that makes money from advertising. We have a modified experience for viewers using ad blockers

Wikia is not accessible if you've made further modifications. Remove the custom ad blocker rule(s) and the page will load as expected.