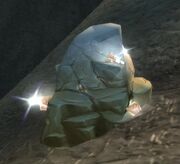 Tin is the second-easiest metal to mine. Tin veins also produce gems and, more frequently, Coarse Stone. Tin ore is smelted into Tin Bars at the forge. In turn, one tin bar can be smelted with one copper bar to make two bronze bars.
Gems Mined
Edit
External links
Edit

Wikipedia
Mining

TheNoobSchool.Com
Tin Mining Routes
Tin Vein
Ad blocker interference detected!
Wikia is a free-to-use site that makes money from advertising. We have a modified experience for viewers using ad blockers

Wikia is not accessible if you've made further modifications. Remove the custom ad blocker rule(s) and the page will load as expected.