Thunderlord Clan Tablet

"You can't quite make out what is etched upon this old Thunderlord clan tablet."
The Thunderlord Clan Tablet can be found in a hut on the north side of Bladespire Hold in Blade's Edge Mountains. [41.2, 46.6]
As a quest objective
Edit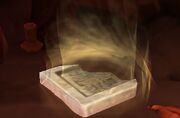 This item is an objective of

 [65] Thunderlord Clan Artifactsω τ ϖ.
External links
Edit