Thunderlord Clan Drum

"The skin stretched taut over the drum appears brittle."
The Thunderlord Clan Drum can be found inside a hut on the southern side of Bladespire Hold in Blade's Edge Mountains. [40.2, 58.3]
As a quest objective
Edit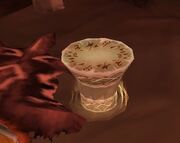 This item is an objective of

 [65] Thunderlord Clan Artifactsω τ ϖ.
External links
Edit