Ad blocker interference detected!
Wikia is a free-to-use site that makes money from advertising. We have a modified experience for viewers using ad blockers

Wikia is not accessible if you've made further modifications. Remove the custom ad blocker rule(s) and the page will load as expected.
Throne of the Four Winds
TotFW, Tot4W, SWR
Location
Skywall (Uldum) [38, 81]
End boss
Al'Akir
Raid info
Type
Raid
Advised level
85
Player limit
10/25
Other raids
Throne of the Four Winds is a raid in the Skywall complex introduced in World of Warcraft: Cataclysm. It can be found off the southwest coast of Uldum at [38, 81] high in the air.
This dungeon, along with Bastion of Twilight and Blackwing Descent, is meant to an entry level raiding instance, much as "Naxxramas" was for Wrath of the Lich King or Karazhan was for Burning Crusade. [1]
The final boss of the raid instance (Al'Akir, does also have a low chance to drop the mount Reins of the Drake of the South Wind. The mount has the same chance to drop on all difficulties.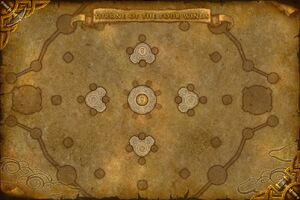 How to find the entrance
References
Edit
External links
Edit
WoW Official Game Site (US)
Throne of the Four Winds

WoW Official Game Site (EU)
Throne of the Four Winds
Guides

25man.com
Throne of Four Winds Tactics & Strategy Guides

Icy Veins
Comprehensive encounter guides for Throne of the Four Winds

LearnToRaid.com
Video Strategy Guides
News
WoW Insider
Tier 11 normal mode raid bosses to give valor points again
by Daniel Whitcomb Jul 18th 2011 at 11:00PM