Thrash Blade
is a one-hand sword that is most often sought after by Rogues for its ability to grant extra swings.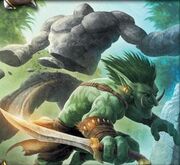 This item is a reward from the quests

 [51D] Corruption of Earth and Seed and

 [51D] Corruption of Earth and Seed which start in Desolace. To complete either quest, you must slay Princess Theradras.
See also
Edit
Patch changes
Edit

Patch 1.3.0 (07-Mar-2005): Fixed a bug that was causing Thrash Blade to have an additional attack when the effect went off.


Patch 1.2.0 (18-Dec-2004): Added

External links
Edit
Ad blocker interference detected!
Wikia is a free-to-use site that makes money from advertising. We have a modified experience for viewers using ad blockers

Wikia is not accessible if you've made further modifications. Remove the custom ad blocker rule(s) and the page will load as expected.