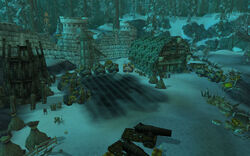 Thorson's Post is a farm on the northeastern edge of The Carrion Fields in the Dragonblight.
Duke August Foehammer, originally stationed at Ahn'Qiraj for its accompanying world event, is now based here for the quest

 [73] Steamtank Surprise.
Ad blocker interference detected!
Wikia is a free-to-use site that makes money from advertising. We have a modified experience for viewers using ad blockers

Wikia is not accessible if you've made further modifications. Remove the custom ad blocker rule(s) and the page will load as expected.