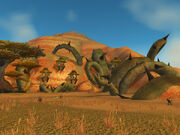 Thorn Hill[58, 49] is a sizable settlement nestled on the north face of a mountain top between the Crossroads and Durotar. It is populated by a large number of Razormane Quilboar who have recently been raiding Horde caravans in the region, and thus have attracted the ire of the local security forces. Thorn Hill is led by the cunning quilboar raider named Kreenig Snarlsnout.
Ad blocker interference detected!
Wikia is a free-to-use site that makes money from advertising. We have a modified experience for viewers using ad blockers

Wikia is not accessible if you've made further modifications. Remove the custom ad blocker rule(s) and the page will load as expected.