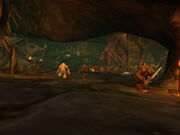 Thistlefur Hold[38, 30] is located in west-central Ashenvale, in the northern part of Thistlefur Village. It is home to the bulk of the Thistlefur furbolgs, and contains two quests for Horde characters — collecting troll charms and rescuing Ruul Snowhoof, who is trapped in a cage deep in the hold. Alliance players also come here to collect troll charms. The furbolgs here also held the Idol of Remulos for a time, which is what corrupted them and turned them hostile to all outsiders.
Inhabitants
Edit
Quest givers
Mobs
Patch changes
Edit
Regions of Kalimdor
Northern Kalimdor

Ashenvale

 ·

Azshara

 ·

Azuremyst Isle

 ·

Bloodmyst Isle

 ·

Darkshore

 ·

Darnassus

 ·

The Exodar

 ·

Felwood

 ·

Mount Hyjal

 ·

Moonglade

 ·

Teldrassil

 ·

Winterspring

Central Kalimdor
Southern Kalimdor
Kalimdor category
Ad blocker interference detected!
Wikia is a free-to-use site that makes money from advertising. We have a modified experience for viewers using ad blockers

Wikia is not accessible if you've made further modifications. Remove the custom ad blocker rule(s) and the page will load as expected.