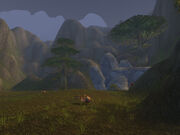 Thelgen Rock is an area in the southern Wetlands that is crawling with poisonous spiders. The name refers to an extensive cavern that stretches deep into the Khaz Mountains. The caves hold deposits of Incendicite Ore, needed for the quest Search for Incendicite. The spiders can be farmed for Spider's Silk, though the drop rate is modest. Frustrated cartographers can also be seen roaming the area trying in vain to explore the last piece of their maps.
Ad blocker interference detected!
Wikia is a free-to-use site that makes money from advertising. We have a modified experience for viewers using ad blockers

Wikia is not accessible if you've made further modifications. Remove the custom ad blocker rule(s) and the page will load as expected.