Thel'zan's Phylactery

"There are initials etched on the side: I.M."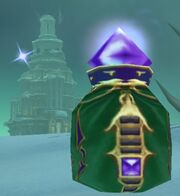 Thel'zan's Phylactery
appears after killing
Icestorm
in the
Dragonblight
.
[63, 27]
It is also provided for the quest

 [73] Finality
As a quest objective
Edit
While on the Changing Icestorm, talk to "Wyrmbait", tell him to get Icestorm, wait for the harpoons to catch her and unload from range. Once she dies, the phylactery will drop on the ground for all to loot.
External links
Edit
Ad blocker interference detected!
Wikia is a free-to-use site that makes money from advertising. We have a modified experience for viewers using ad blockers

Wikia is not accessible if you've made further modifications. Remove the custom ad blocker rule(s) and the page will load as expected.